I just received the beautifully produced catalogue accompanying the exhibition, MAN AS OBJECT: REVERSING THE GAZE at the SOMArts Cultural Center, San Francisco, CA, (opening November 2011). Included in this historic catalogue of 194 artists presented by the National Women's Caucus for Art (WCA) is an image of Frédéric Koenig which I photographed on the morning of the opening of my show, Beyond XY: Four Photographers Explore the Masculine Continuum, at the PHD Gallery in St Louis, MO.
"This exhibit marks an important development in feminist art" writes Brenda Oelbaum in the introduction because "… it comments on the prevelance of the male gaze in art and of the continued domination of male artists exhibiting in galleries and museums. My goal is to turn the tables and exhibit works that put the male in the position of subject and spectacle."
Janice Nesser-Chu, the President of the National Women's Caucus for Art, also wrote in the catalogue, "… women artists reverse the gaze and look back at man as object or desire and in doing so they assert their own power and control, not only over their subject but also over their own image and identity. The exhibition is not only about the work on the walls but is about empowerment."
The description of my work is quoted on page 157:
"These images are part of an ongoing series of portraits that document my collaboration with Frédéric Koenig, who can so naturally appear both handsome and beautiful, both masculine and feminine. Wearing nothing more than spike heels, he provocatively poses in a gritty, industrial environment that reinforces a traditional male landscape. While his upper body exudes a masculine power, his raw and curvaceous physicality and his archetypal pin-up girl shoes challenge the viewer to explore how we perceive masculinity, sexuality and gender identity."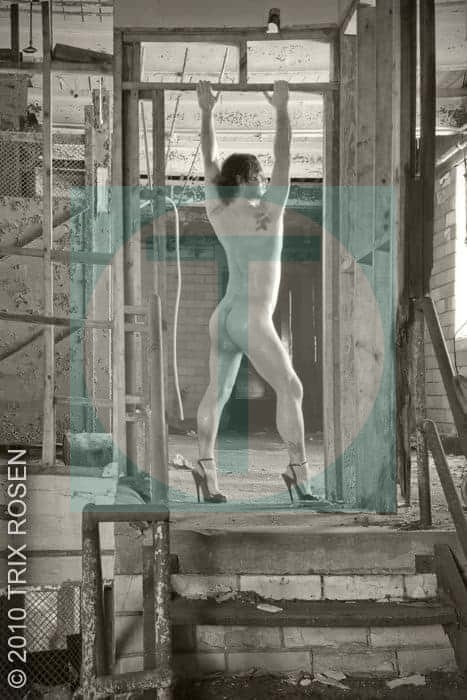 Beyond XY: Inside the Abandoned Falstaff Brewery #2, 2010
20 x 30 inches, Archival Pigment Print. Edition of 5.