This post congratulates Roz Li, Zach Rice and Li/Saltzman Architects, PC for their beautiful restoration work of the Brown Memorial Baptist Church in Brooklyn NY.
Li/Saltzman has been working with this church since 2001. They started with the restoration of the exterior – restoring the brick, replacing the roof, recreating the missing stone turrets and the structural stabilization of the roof trusses. Once the exterior envelope was stable and watertight, the restoration of the sanctuary interior began.
"Saturday, February 4, 2012, was the Re-Dedication Ceremony of Li/Saltzman Architects' latest project completion, the interior restoration of the Brown Memorial Baptist Church, a landmark church built in 1860," Preservation Architect, Roz Li, proudly told me. "It was a memorable moment to witness the first religious service attended by the African-American congregation after several years of restoration work. The ceremony was enlivened by songs from the church's great choir. The church was really vibrating! It was so joyful."
Roz explained more about the history of the project, "Before the restoration the plaster walls and ceilings were cracked, and we had to net the heavy plaster ornamental medallions for fear of them falling. There were no chandeliers, and the lighting that existed was full of glare.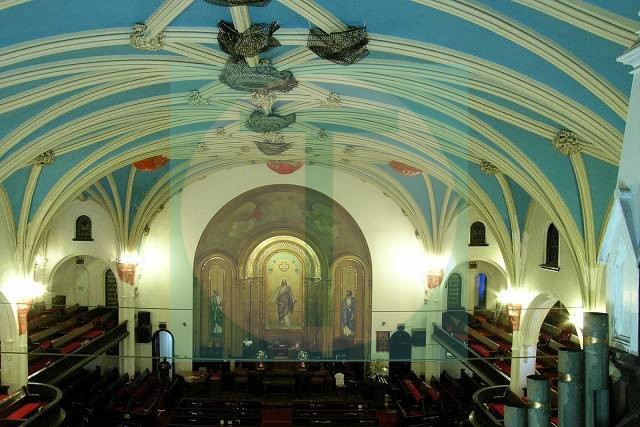 We did some probes and found out that beneath the paint, the original finish was tinted plaster made to look like stone with scored joints, and each simulated stone panel was a slightly different shade than the next, just as natural stone would have been.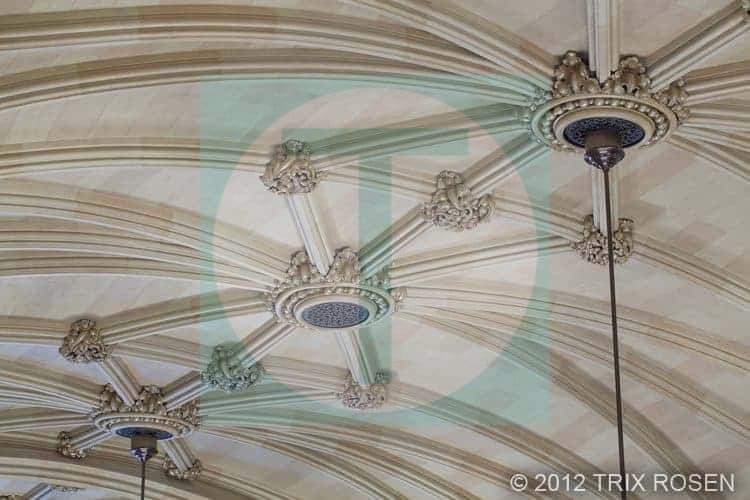 So, with O'Donoghue Contracting Co, General Contractor, and Ernest Neuman Co, Decorative Painting Contractor, we recreated that historic finish. We designed new chandeliers, we installed new LED lights around the column capitals. We restored the walnut pews. As you will see, the results are dramatic. With the completion of the exterior and interior restoration, Brown Memorial Baptist Church celebrates its historic past as it faces the future."